Bongaree Run 5th August. Club members met at the clubhouse on a beautiful winter's day on Wednesday 5th August 2020. At the appointed time we set off under the able leadership of Des Donnan. Des led us on a series of back roads until we arrived at our morning tea stop, where we were invited to inspect several restored cars and motorbikes.This was all very interesting, but finally Des asked the two gentlemen running the place 'what do you actually do here'.

When at last we left this unique display we crossed the bridge to Bribie Island and headed towards Bongaree at the southern end of the Island. There is a small museum here called the Bongaree Museum. It is run by the Moreton Bay Regional Council and is devoted to the discovery and history of Bribie Island. Although small, we found this museum to be interesting, perhaps because we are all familiar with Bribie Is. We were impressed with efficiency of the museum staff, who had a clipboard and pencil ready for each of us to enter our details. From the museum the view is across Moreton Bay towards the mainland. I commented to a staff member what a lovely work place she had and she replied that other Council employees were quite envious.

Finally, it was time to enjoy our BYO lunch in the shade of trees outside the museum, and then it was time to head for home. We learned that they run a very successful business repairing machinery that has electronic components such as petrol and diesel pumps at petrol stations, agricultural machinery such as seeding drills and so on. Machinery needing repair is sent to them from all over Australia, they repair it and then it is returned. Notes by John L.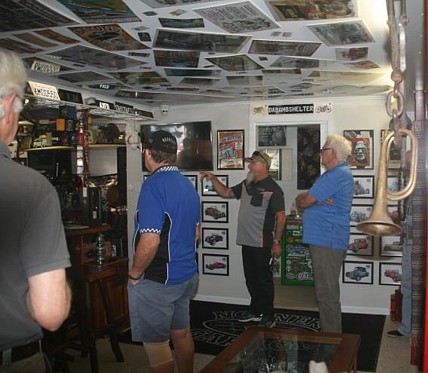 ...........................................................